Christie's International Real Estate, the world's leading luxury real estate brand, is partnering with Hokkaido-based lifestyle real estate services firm H2 Group to launch Christie's International Real Estate in Japan.
H2 Group's residential brokerage division, H2 Real Estate, with offices in Niseko and Furano, will become Japan's first Christie's International Real Estate affiliate, rebranding to H2 Christie's International Real Estate. The firm also has signed a Master Licensing Agreement to grow the Christie's International Real Estate brand throughout Japan, including in the key markets of Tokyo, Kyoto, Osaka, Hakuba, Fukuoka and Okinawa.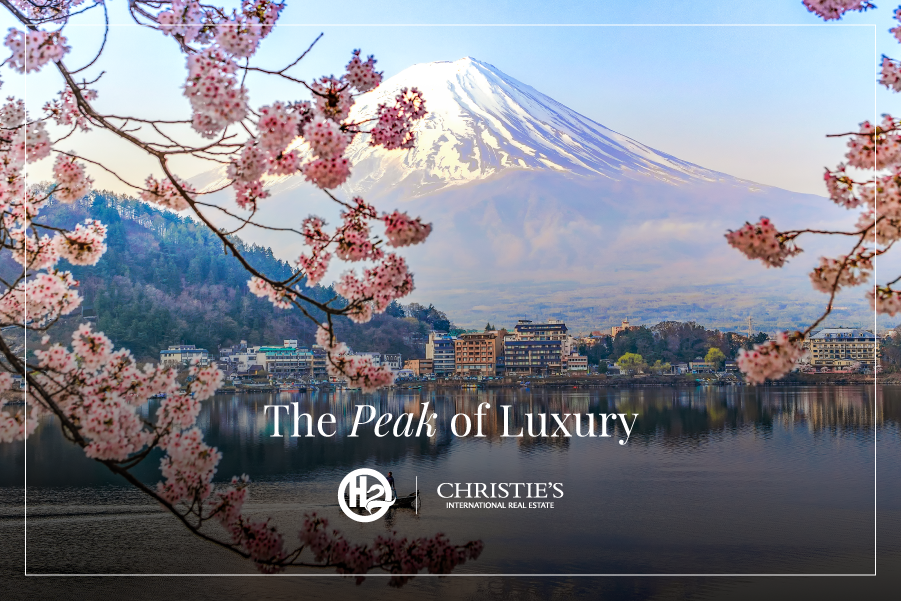 H2 Group, founded by Simon Robinson and Michael H. Chen, has more than 20 years of experience in development, management, sales and service in the luxury real estate, leisure and hospitality industries in Hokkaido. Along with its real estate brokerage division, H2 Group offers development management, property management, and luxury rentals featuring curated lifestyle experiences in Hokkaido's ski resort areas.
H2 Christie's International Real Estate expects to take advantage of resurgent demand for luxury real estate in Japan as the country reopens to international buyers following the 2.5-year global pandemic. Nowhere are those prospects more apparent than in Hokkaido prefecture, a popular vacation and second-home destination known for its ski resorts, temperate summer climate and national parks. A recent wave of development has added a number of new luxury 5-star hotel-branded residences in Hokkaido. In addition, the extension of the Shinkansen bullet train to Niseko and Sapporo will improve access to the region. Sapporo is also in the running to host the 2030 Winter Olympics.
Japan's broader housing market also has garnered increasing attention from international investors enticed by the weakness of the Japanese Yen against the U.S. dollar. Japan's residential property price index rose by 6.9% from Q1 to Q3 2021, according to the Land Institute of Japan. Prices continue to be highest in the capital city of Tokyo.
"With their luxury focus, strong international connections and innovative, full-service approach to real estate, Michael and Simon are the perfect partners to expand Christie's International Real Estate in Japan and give the brand even greater visibility in East Asia," said Mike Golden, co-CEO of Christie's International Real Estate.
"Our affiliation with Christies International Real Estate will give H2 even more credibility and reinforce our expertise in the Hokkaido luxury residential market," said Simon Robinson, co-CEO of H2 Group. "We are excited for this partnership to open new doors for us throughout Japan."
"We are thrilled and honored to be selected by Christies International Real Estate as its Japan affiliate, as our commitment to the highest quality of client care and experience are values much supported by Christie's. With this partnership, we will offer an even higher level of service both in areas of marketing and technology, providing higher chances of success both for our clients and agents," said Michael Chen, co-CEO of H2 Group.
Christie's International Real Estate's close relationship with the world-renowned Christie's auction house is another important client benefit considering Asian buyers represented 31% of Christie's sales in 2021.
"The ability to refer clients to the auction house and vice versa will create some incredible opportunities to grow our business and further service our clientele," added Chen.
"The Christie's International Real Estate brand has tremendous growth potential in Asia thanks to a strong network and first-class operators like H2 Group. We are excited to be growing our footprint in this part of the world," said Helena de Forton, Managing Director, Head of EMEA & Asia for Christie's International Real Estate.
H2 Group is active in local charitable and civic endeavors. The firm supports the Hokkaido International School, sits on the Niseko Promotion Board, is a member of the Kutchan Tourism Association and is the title sponsor for the Jolly Fox Niseko Invitational Charity Golf Series.
For more information, visithttps://h2realestate.jp/.
About Christie's International Real Estate
Christie's International Real Estate has successfully marketed high-value real estate around the world for more than 30 years. Through its invitation-only Affiliate network spanning nearly 50 countries and territories, Christie's International Real Estate offers incomparable services to a global clientele the in the luxury residential market. The company and its affiliated brokerages have recorded approximately US$500 billion of real estate transactions over the last five years. For additional information, please visit christiesrealestate.com.